Realize your dream vacation on our enchanting Caribbean skippered yacht charters.
To find out more about our Caribbean skippered yacht charters and regatta charters, please visit the following individual pages:
Grenada & the Grenadines is an amazing holiday destination to cruise and explore. Discover deserted white-sand islands, fringed with palm trees and turquoise water. Or climb a volcanic mountain through lush tropical rainforest. Enjoy the world-class snorkeling and fishing as you sail around dramatic islands. The scenery is truly breath-taking and best viewed from one of Bluewater Sailing's Caribbean skippered yacht charters.
The diversity found in Grenada & the Grenadines is simply astounding, and there is something for everyone throughout the islands on our Caribbean skippered yacht charters. Guests can enjoy relaxing on board and taking in the natural beauty; or you can get on land to explore the friendly culture and traditions of the islands.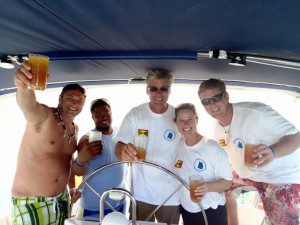 Always wanted to experience the thrill of competing in a world-class Caribbean regatta? Or maybe you are a seasoned sailor who wants to crew on a fun and competitive yacht? Whatever your level of expertise, you can join our race clinics and dynamic team to compete in regattas such as Antigua Sailing Week, Grenada Sailing Week, and Bequia Easter Regatta. We also offer mile-building cruises as we sail to the regattas, with the opportunity to complete a range of  RYA Training courses on the way. A great way to see the Lesser Antilles and enjoy an amazing regatta charter vacation too!