Getting to Grenada has never been faster or easier!
Direct flights are available from the UK, Europe, US and Canada. We have charters starting on alternative days, allowing you to choose your preferred airline. With advance bookings, we are flexible to suit flights.
Grenada's Maurice Bishop International Airport code is: GND.
---
Learn to Sail With Bluewater Sailing
Accommodation is included on board the yacht from the evening prior to your course starting until the afternoon when your course finishes, provided that your arrival time at the yacht is before 22.00pm Grenadian time. Arrivals after this time could potentially disturb other crew members who may be sleeping, so shore-based accommodation must be found and you may join the yacht at 08.30am on Monday morning.
How do I Book a Learn to Sail Vacation or Course?
Please read our Terms and Conditions. Check our Sailing Charters and Course Schedule for availability and then use our online Booking Request Form. If you have any questions then please feel free to contact us first.
---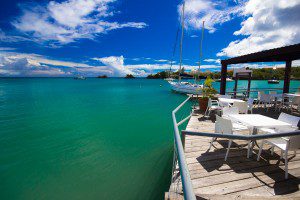 True Blue Bay Resort is just 5 minutes away from the airport by taxi!
If you would like to take the opportunity to discover Grenada (either before or after your booking) we will gladly arrange shore-based accommodation for you at True Blue Bay Resort or one of the many other wonderful accommodation options on the island.
---

How to Get to Grenada by Air
How to get to Grenada from the UK & Europe
British Airways and Virgin Atlantic continue to service Grenada with twice weekly direct flights from London Gatwick Airport. Caribbean Airlines has daily direct flights from London Heathrow Airport to Antigua, Barbados, St. Lucia and Trinidad, with same day connections via LIAT into Grenada. Condor Airlines services many European countries such as Germany.
How to get to Grenada from the US
From the US, American Airlines services Grenada with direct flights. Delta Air also provides non-stop flights from John F. Kennedy International Airport in New York to Grenada. In addition, Caribbean Airlines services Grenada with flights from Orlando, New York and Miami.
How to get to Grenada from Canada
From Canada, Grenada can be reached via Caribbean Airlines that operates a twice weekly non-stop service from Toronto on Thursdays and Sundays. Air Canada Vacations also operate a seasonal non-stop flight from Toronto. Air Canada has year-round daily flights from Toronto to Barbados on Saturday and Sunday, with connections on LIAT to Grenada. In addition, West Jet operates a flight from Toronto to Barbados with connections on LIAT to Grenada year round.
How to get to Grenada from the Caribbean
From within the Caribbean, LIAT Airlines provides connections into Grenada's Maurice Bishop International Airport from many Caribbean islands. You can also connect with international flights from Antigua, Barbados, St Lucia and Trinidad. Caribbean Airlines provides flights from Barbados, Guyana and Trinidad and Tobago.