This fun RYA certification course is for beginners and those who would like to become active crew members.
Experience living on board as crew and really get to know the boat with this fun RYA certification. The majority of the RYA Competent Crew course is hands on and action packed! You are the crew… without you the sails won't go up and the boat won't be steered around the picturesque islands of the Grenada and the Grenadines.
By the end of this RYA certification course you should be able to steer, handle sails, keep a lookout, row a dinghy and assist in the day to day duties on board.
---
Learn and Explore in Grenada and the Grenadines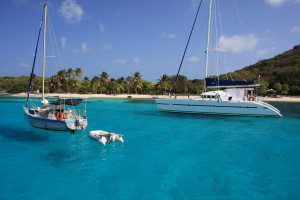 Not only will you learn to sail on this great RYA certification course, you will visit amazing tropical islands, explore traditional Caribbean cultures, and have a very enjoyable sailing vacation! Sailing yacht Chao Lay is suitable for singles, groups of friends, or families – she measures 46 feet and has 3 spacious en-suite cabins. A solid bluewater cruiser, she is steady to sail and equipped with all the latest safety equipment.
This highly beneficial RYA certification course is perfect for people who like to get involved on their sailing charter vacations. Start hoisting the sails and steering the boat to your next awesome destination in Grenada and the Grenadines!
RYA Certification – Competent Crew Information:
Pre-course experience
None
Assumed knowledge
None
Minimum duration
5 days. If you have done the Start Yachting course, this course can be completed in 3 or 4 days.
Minimum age
None

Course content
Knowledge of sea terms and parts of a boat, her rigging and sails, sail handling, rope work, fire precautions and fighting, personal safety equipment, man overboard, emergency equipment, meteorology, seasickness, helmsmanship, general duties, manners and customs, rules of the road, dinghies.
Ability after the course
Able to steer, handle sails, keep a lookout, row a dinghy and assist in all the day to day routines.
Cost
5 days/4 nights: GBP 695 per person

7 days/6 nights: GBP 895 per person

10% discount for couples sharing a private ensuite cabin.